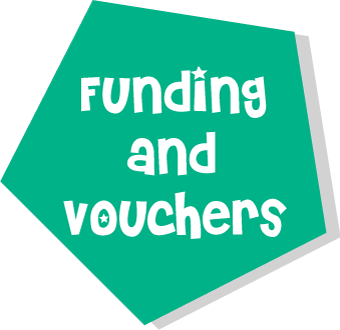 Early Years Funding & Voucher Schemes
Voucher Schemes
Childcare Vouchers can often be a cost efficient way for working parents to pay for all or part of their school fees. Parents using this scheme don't pay tax or National Insurance on childcare vouchers up to the value of £55 a week (per parent).
These vouchers are issued by your employer, usually by way of a salary sacrifice scheme, typically through an external vendor.
At the Learners Montessori we aim to accept all forms of recognized childcare vouchers in order to provide parents with as many as possible payment options.
If you would like to pay some/ all of your fees through childcare vouchers, please follow these simple steps:
Enquire with us to find out whether we are already registered with the vendor (we are currently registered with the majority of vendors)
Provide the vendor with our registration details so they can link your account with us
Please request the vendor to use your child's full name as the payment reference
Let us know the amount that will be paid by vouchers each month and the date on which the payment will be made*.
*Please note that as per our terms and conditions, monthly fees are payable by the first day of each month. Therefore if your chosen childcare vendor pays mid month, that amount will contribute to the following month's fees.
Free Entitlement to Early Education for 3 and 4 year olds – formerly known as Nursery Education Grant (NEG)
As it currently stands, the free entitlement provision provides 15 hours free entitlement per week, availability for 38 weeks per year. The free entitlement covers basic teaching provisions; however it does not cover the cost of extras such as meals and activities (e.g. French, dance and yoga classes). Therefore the additional 10 weeks per year and the extras are charged for separately.
Please note that you are not obligated to take these extras as a condition to receive the free entitlement.
For children aged between 3/ 4 years who are participating in the free entitlement provision, their monthly invoices will broken down as follows:
Free entitlement of 15 hours per week for 38 weeks per year
Additional chargeable hours per week for 38 weeks per year (if applicable)
Meals & Snacks per week for 38 weeks per year
Extra classes (eg. Yoga / French / dance etc.) per week for 38 weeks per year (if applicable)
Full nursery fees for 10 remaining weeks per year
The total fees for the year are calculated as above, and then divided by 48 weeks to give a weekly cost (net of the free entitlement). This effective weekly rate is multiplied by 4.4 to give the monthly cost for all months except August and December. For August and December the monthly cost is calculated by multiplying the weekly fees by 2. Thus over the course of the year, the full annual fee (net of the free entitlement) is paid over the course of the 12 months.
Please contact the school for a full breakdown of the costs for the additional chargeable hours and fees for the 10 remaining weeks per year.